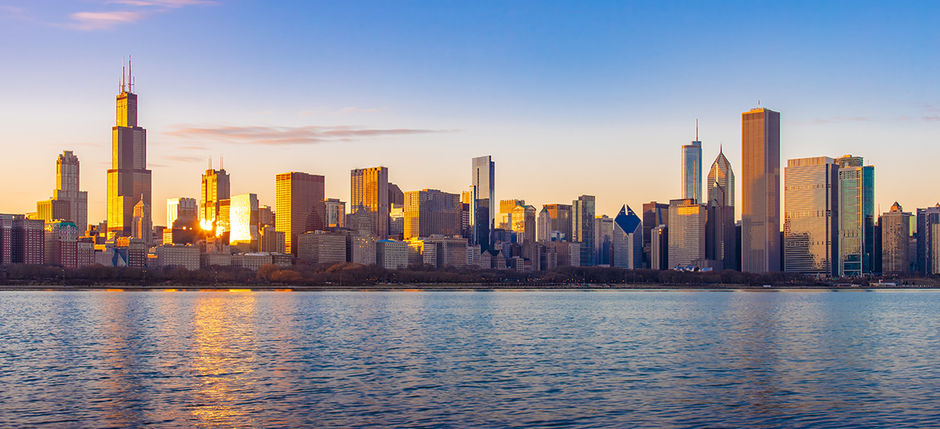 About Our Flower Shop
Your Local Chicago Florist for 4 Generations
Fasan Florist was opened in Chicago by Charles M. Fasan Sr. in 1924. To this day, the shop has been family-owned, operated, and serving Chicago and its surrounding suburbs with pride. Charles (Mick) has taken the store to new levels of quality and service with each day and every order. We are currently in our third generation of ownership and are happy to have the fourth generation, Maggie Fasan, join in our success. She has brought her knowledge and commitment to help the family business continue to grow.
Fasan Florist has grown to be recognized as a leading florist in the Chicagoland area. We have helped people in celebrating weddings, 100th anniversaries, and many more events.
We believe in exceeding customer expectations. We custom select flower shops in cities across the country with the highest qualification and capabilities to satisfy the most discriminating customer. Most florists we affiliate with have been personally selected to serve on our "Preferred Florist" list that we refer to when sending orders that are not in our delivery area. You can rest assured when you place an order with Fasan Florist, our satisfaction guarantee is always included.
Our
Chicago

Location

Address:1600 W 35th St
Chicago, IL 60609

Phone:(773) 523-8564
ZIP Codes Served
60004, 60005, 60007, 60008, 60009, 60010, 60011, 60015, 60016, 60017, 60018, 60019, 60021, 60022, 60025, 60026, 60029, 60035, 60037, 60038, 60040, 60043, 60044, 60045, 60053, 60055, 60056, 60062, 60065, 60067, 60068, 60069, 60070, 60074, 60077, 60082, 60090, 60091, 60093, 60094, 60095, 60101, 60102, 60103, 60104, 60105, 60106, 60107, 60108, 60116, 60117, 60125, 60126, 60128, 60130, 60131, 60132, 60133, 60134, 60135, 60136, 60137, 60138, 60139, 60143, 60148, 60153, 60154, 60155, 60157, 60159, 60160, 60161, 60162, 60163, 60164, 60165, 60168, 60171, 60172, 60173, 60176, 60179, 60181, 60184, 60185, 60186, 60187, 60188, 60189, 60190, 60191, 60192, 60193, 60194, 60195, 60196, 60197, 60199, 60201, 60202, 60203, 60208, 60209, 60301, 60302, 60303, 60304, 60305, 60398, 60399, 60402, 60406, 60409, 60411, 60412, 60415, 60417, 60419, 60422, 60423, 60425, 60426, 60429, 60430, 60435, 60438, 60439, 60440, 60441, 60445, 60448, 60449, 60451, 60452, 60453, 60454, 60455, 60456, 60457, 60458, 60459, 60461, 60462, 60463, 60464, 60465, 60466, 60467, 60469, 60472, 60473, 60475, 60477, 60478, 60480, 60482, 60490, 60499, 60501, 60510, 60513, 60514, 60515, 60516, 60517, 60521, 60522, 60523, 60525, 60526, 60527, 60532, 60534, 60539, 60540, 60546, 60555, 60558, 60559, 60561, 60563, 60564, 60565, 60566, 60567, 60570, 60601, 60602, 60603, 60604, 60605, 60606, 60607, 60608, 60609, 60610, 60611, 60612, 60613, 60614, 60615, 60616, 60617, 60618, 60619, 60620, 60621, 60622, 60623, 60624, 60625, 60626, 60628, 60629, 60630, 60631, 60632, 60633, 60634, 60636, 60637, 60638, 60639, 60640, 60641, 60642, 60643, 60644, 60645, 60646, 60647, 60649, 60651, 60652, 60653, 60654, 60655, 60656, 60657, 60659, 60660, 60661, 60663, 60664, 60665, 60666, 60667, 60668, 60669, 60670, 60671, 60672, 60673, 60674, 60675, 60676, 60677, 60678, 60679, 60680, 60681, 60683, 60684, 60685, 60686, 60687, 60688, 60690, 60691, 60693, 60694, 60695, 60696, 60697, 60699, 60701, 60706, 60707, 60712, 60714, 60803, 60804, 60805, 60827